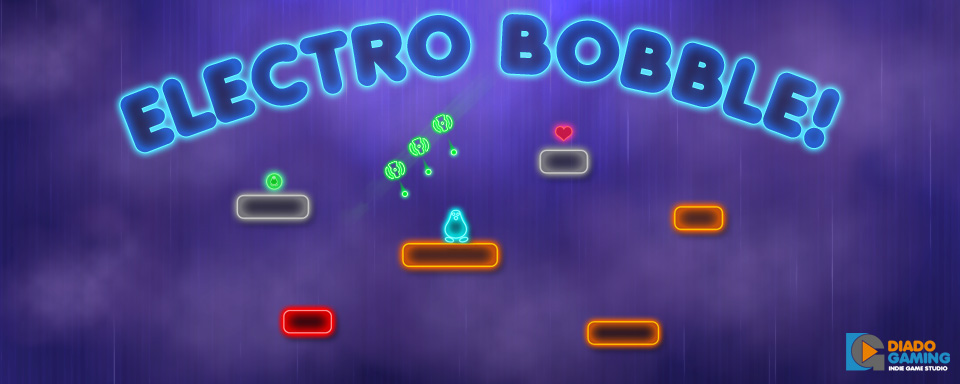 Electro Bobble
About Electro Bobble
Electro Bobble is a fun, retro-style, vertical "bullet-hell" platformer...
Play as a cute Bobble of electricity that lives in a thunder cloud!
Choose from 3 different Bobbles, each with their own unique perk!
Defend your cloud from the invading Electro Meanies!
Avoid falling by jumping between procedurally generated platforms!
Pick up shields, gun upgrades, and even jetpacks!
Fight against randomly selected bosses!
Can YOU save the Electro Bobbles?
Reviews
8 / 10 – "[Electro Bobble] is a 1995, 16 bit, hyped up sugar rush and I hope that this little, adorable blob doesn't come back down from the clouds anytime soon." – Pixel Bedlam
8 / 10 – "I recommend this game to all gamers [...] You won't regret it." – IndieSniffer.com
80% – "Electro Bobble offers new and exciting challenges to fans of platfomers and shooters alike whilst doing something just a little different." – The Indie Game Magazine
4 / 5 – "The challenge, high quality presentation, brilliant controls and unique feel to Electro Bobble makes it a real charm of a game." – Game Players Review
"The great gameplay of Electro Bobble is a credit to the hard work of developer Diado Gaming, who deliver an impressively smooth and polished action experience." – Independent Gaming
Download
Click download now to get access to the following files:
ElectroBobbleInstaller103.msi
13 MB